Are you looking for boat rental in Vinkeveen? Then you have come to the right place! For a modest fee you can spend a wonderful day on the water. Enjoy the beautiful nature of the Vinkeveense Plassen: go fishing, swimming or sunbathing on one of the sandy islands!
We will ensure that all preparations are made and that your time sailing the Vinkeveense Plassen is nothing but a great pleasure! Klinkhamer Watersport is the right address for sloop rental, boat rental and party boat rental.
All of our boats are equipped with a full tank of fuel so you can sail immediately. We will also give you a map of the Vinkeveense plassen and we will be happy to show you the most beautiful spots on the Vinkeveense Plassen. Upon request you will receive a free life jacket and a waterproof bag from us. You do not need a license to operate our rental boats.
At Klinkhamer Watersport you may choose between the following boats:
De Interboot is een luxe en zeer makkelijk varende sloep met inboord dieselmotor en zwemtrap. De sloep is voorzien van fijne rug- en zitkussen en een cabrioletkap, waardoor u ook wanneer het waait heerlijk beschut zit. Op uw verzoek kunnen wij een zonnedek voor u inbouwen.  Deze boot is voor maximaal 6 personen te huur.
De Verano is een heerlijk ruime motorboot met stuur en kussenset. Deze boot is voor max. 6 personen te huur.
De Master is een fijne motorboot met stuur voor max. 5 personen. Wij geven u bij deze motorboot kussens mee.
De Askeladde is een  polyester motorboot met electrische start. De Askeladde is geschikt voor voor max. 5 personen. Wij geven u bij deze motorboot kussens mee.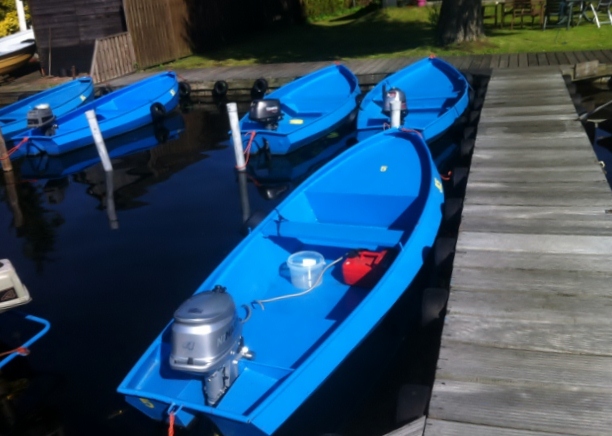 Deze eenvoudige stalen motorbootjes zijn geschikt voor maximaal 3 tot 4 personen.
LET OP: u mag met onze huurboten de Vinkeveense Plassen niet verlaten. Met het reserveren van een huurboot bij Klinkhamer Watersport gaat u akkoord met onze voorwaarden (klik hier).
Boat rental reservations can only be made by phone. Call us on 0294-291545. Please note: it is not possible to pay with pin.